Earth Observation Data Visualisation Workshop
16 May - 20 June
What is the EO Data Visualisation Workshop Series about?
Imagery is a powerful way to convey an impactful message. With the increased availability of satellite data and petabytes of Copernicus Sentinel open data, data visualisation and data journalism have significantly developed in recent years. Earth observation has emerged as a new, easily available way to illustrate environmental and climate change-related challenges and communicate complex information to a broad audience. 
With a wealth of satellite data and geospatial products available on a full, free and open basis, the European Union, with Copernicus, is providing journalists and all those interested in data visualisation with a vast amount of raw material as well as processed information and model outputs. 
Also, the tools to access and process this data for storytelling are increasingly easy to use and have made considerable progress in recent years. 
With this in mind, EUMETSAT, Europe's operational satellite agency for monitoring weather, climate and the environment, is hosting a series of short online workshops over a six-week period on Earth observation and Copernicus data visualisation. 
The series of workshops are designed to meet the needs of attendees with diverse backgrounds, ranging from beginners to experts. It includes high-level testimonials, case studies, and practical examples.
By attending, participants will gain a comprehensive understanding of how to use data visualisation to illustrate societal and environmental challenges and communicate complex information to a broad audience. 
Why Attend?
Discover the power of Copernicus and EUMETSAT open data
Learn from the best
The workshop series will include testimonies from representatives of world-class media and data visualisation experts, with examples, experience sharing, and case studies to provide capacity building for the community.
PROGRAMME OF THE WORKSHOPS
13 June
Climate Extremes: Heatwaves, Changes in Ice, Drought, Floods
Workshop five will address extreme weather events such as the recent historical floods in Pakistan and how to use Copernicus Emergency Management Service (CEMS) European Drought Observatory data for drought monitoring. It will also cover monitoring of sea ice in the polar regions. 
Panellists:
General Introduction, Christine Traeger Chatterjee (EUMETSAT)
Historical Floods in Pakistan, Peter Salamon (DG JRC)
Ocean Heatwaves, Sea Level Rise, Ben Loveday (Innoflair)
Drought Monitoring with Copernicus Emergency Service European Drought Observatory Data, Valentin Rakovsky (AFP)
Sea Ice Anomalies, Zack Labe (Princeton University & NOAA)
Air Temperature Anomalies in Arctic Regions, Antti Lipponen (Finnish Meteorological Institute) 
Climate Extremes in the Media, Letizia Davoli (TV2000)
Monitoring the Greenland Icesheet, Jason Box (Geological Survey of Denmark and Greenland) 
Image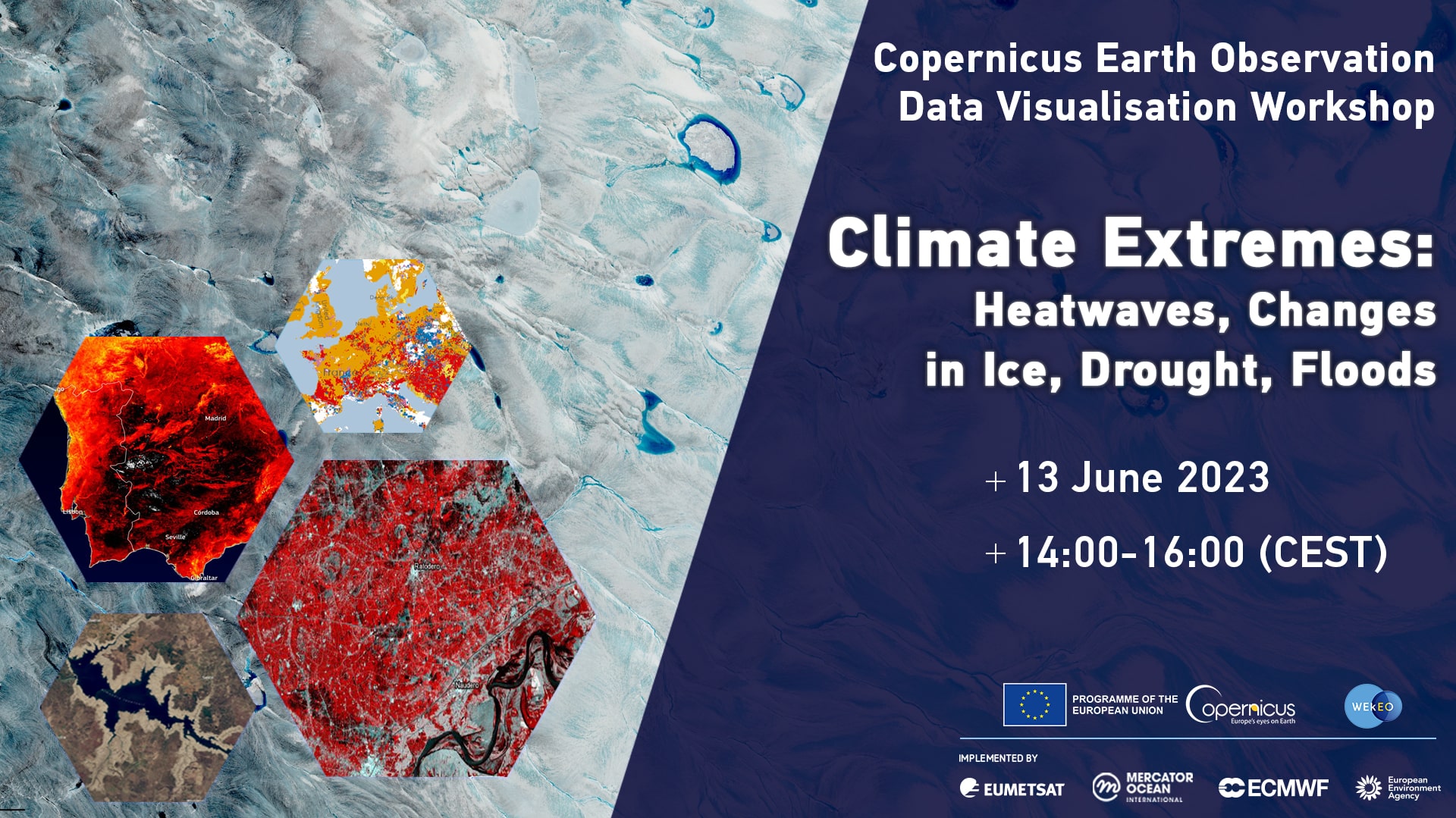 Timeslot event:
From 14:00 to 16:00 CET